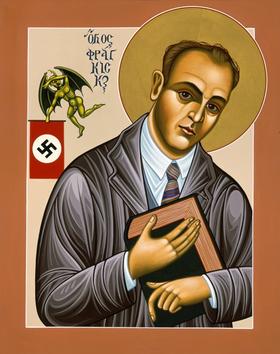 An annual memorial service has been held in London for over thirty years to mark the anniversary of the execution of an Austrian Catholic who refused to serve in Hitler's army.
On this year's 79th anniversary, around 50 people gathered in the crypt of Westminster Cathedral on Tuesday evening for an interfaith service commemorating Blessed Franz Jägerstätter, who was beheaded in Berlin on 9 August 1943 at the age of 36.
In 2007, he was beatified as a Christian martyr.
Speaking at the service, Pat Gaffney of Pax Christi said she was delighted that Pope Francis has offered the witness of Franz to young people meeting in Prague in early July.
He challenged them to rebel against the norm of accepting war and violence, and to be guided by conscience, as Franz was.
Acknowledging the tragedy of war, including in Ukraine, Pope Francis said "we must all commit ourselves to putting an end to this dreadful war, where, as usual, a few powerful people decide and send thousands of young people to fight and die". He told them it is "legitimate to rebel"
He invited young people to get to know the story of Franz Jägerstätter. At the service, Ms Gaffney referred to the published prison letters of Franz and his wife Franziska, written between 1940 and 1943, which reveal their attempts to encourage and understand one another.
Franz was the only person in his village of St Radegund who voted against the Nazi take-over of Austria in 1938. He was happily married to Franziska, and by 1943 they had three little girls, but he decided it was impossible as a Catholic to obey a dictator who was, in his words, "gobbling up" other countries and killing so many people. Hitler's war was one which, in good conscience, he could not support.
Reaching this decision took many months of prayerful thought. He consulted parish clergy and the local bishop – all of whom advised him to compromise and to fight like everyone else. Franziska alone supported Franz to the end. Their correspondence and other writings spotlight Franz's witness to peace, and today the couple offer an inspiration to many.
Fr David Standley had come from a Mass in the cathedral above which celebrated the nun and philosopher Edith Stein, who died on the same date, but said it made no mention of Franz Jägerstätter who was also "a martyr for peace".
Franz gave a "brave and consistent" witness to God, said Fr Standley, who urged participants in the service to consider these questions: "What behaviour would I refuse to join in?" and "What cause would I risk my life for?"
The third speaker, Nigel Baldwin, suggested it is a mockery to ask God for peace and then participate in war.
Tuesday's service was organised by Ms Gaffney and Valerie Flessati of Pax Christi England and Wales, who have both visited St Radegund in Austria and met Franziska, who died in 2013 at the age of 100. Photos of Franz and Franziska were placed on the altar.
Several people in the crypt had spent time in prison for nonviolent direct action for peace, and the service included the calling out of names of other conscientious objectors and war resisters. The congregation remembered Bruce Kent, who died recently and had regularly attended the service. Candles were lit as a sign of hope amid the darkness of war and violence, with background music played on the recorder by Marion Hill.
The heavy brick walls of the crypt recalled Franz's incarceration, particularly since it is thought that bricks from the prison which used to be on the cathedral site were used in the construction of its foundations and crypt.
Yet the warmth of the commemoration and the candlelight underlined that Franz's story has given hope and inspiration for many to follow the nonviolent Jesus, resist the culture of war, speak out for peace, work for justice, and combine the full mystical and political dimensions of faith.
The annual peace prayer service also remembered the victims of the atomic bomb dropped on the Japanese city of Nagasaki on 9 August 1945, which killed at least 74,000 people.
Following the service, representatives of Westminster Justice and Peace joined an interfaith walk from the cathedral to the London Peace Pagoda for the Nagasaki Day memorial, led by the Japanese anti-nuclear campaigner Rev Gyoro Nagase, from the Nipponzan Myhoji Buddhist Order.
They prayed for peace as the sun set.