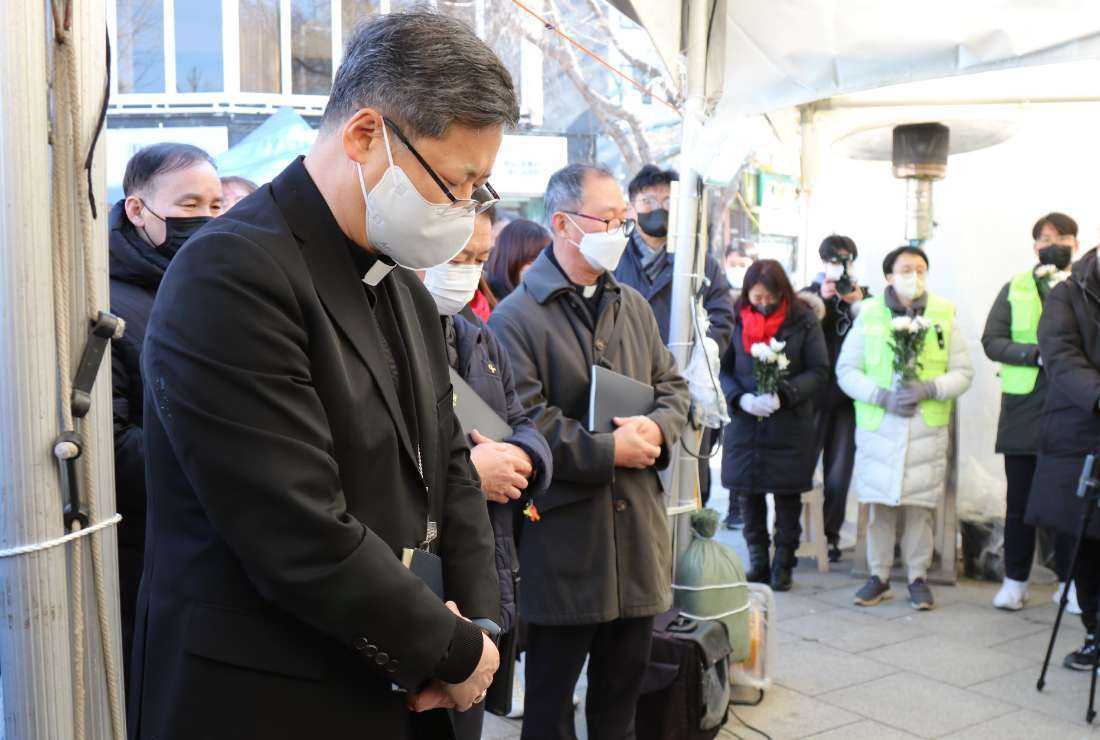 Archbishop Peter Soon-taek Chung of Seoul has assured the Korean Church's continued support for the families of the victims of the Halloween stampede while visiting them.
Archbishop Chung met the family members at a center dedicated to the victims of the October tragedy near Noksapyeong Station in the South Korean capital along with senior clergy and officials of the archdiocese, reported the Seoul archdiocesan news portal, Good News.
"I wanted to tell you that we are praying together for your broken hearts," said Archbishop Chung during the meeting.
Archbishop Chung joined a common prayer for the eternal rest of the victims.
Lee Jong-cheol, a representative of the bereaved families, said they are grateful for the visit and the archbishop's prayer promises.
"I would like the Vatican to offer prayers or words of consolation for the victims of the Itaewon disaster," he further added.
Archbishop Chung accepted the request and agreed to convey it to South Korean Cardinal Lazarus Heung-sik You, the Prefect of the Vatican's Dicastery for the Clergy.
He also promised to offer assistance to the families seeking to cope with the great loss.
The stampede at the Itaewon area of the capital city occurred on Oct. 29 when around 100,000 people in Halloween costumes poured into two narrow streets for partying, resulting in a stampede.
At least 154 people, including 26 foreigners, were killed and 33 people were hospitalized in the stampede.
The tragedy sparked national and global outrage over lax crowd control, which was blamed for the fatalities.
The police had deployed 137 officers to the event, a number significantly higher than in previous years.
However, most police deployed were focused on monitoring drug use, rather than crowd control, local media reported.
The widespread public outrage resulted in a detailed police investigation into the events that transpired on the day of the tragedy.
The National Police Agency investigation team's report has recommended involuntary manslaughter and negligence charges against 23 South Korean officials.
The report cited a lack of safety measures as the cause of the Halloween crowd surge.
Those recommended for indictment in the report include Park Hee-young, the Mayor of Yongsan district, and Lee Im-jae, the district's former police chief.
On Nov. 6, 2022, Archbishop Chung offered a requiem Mass at Myeongdong Cathedral in Seoul which was attended by South Korean President Yoon Suk-yeol and first lady Kim Keon-hee along with hundreds of Catholics.
"I feel regretful and ashamed that our society has failed to protect its younger generation," the prelate had stated in his homily during the mass.
In November the Catholic Bishops' Conference of Korea (CBCK) issued a statement grieving the loss of lives and called for a proper investigation into the incident.
The bishops had termed the tragedy a result of "the cycle of injustice and irresponsibility" that has become a common practice in this society, which all must strive to break.