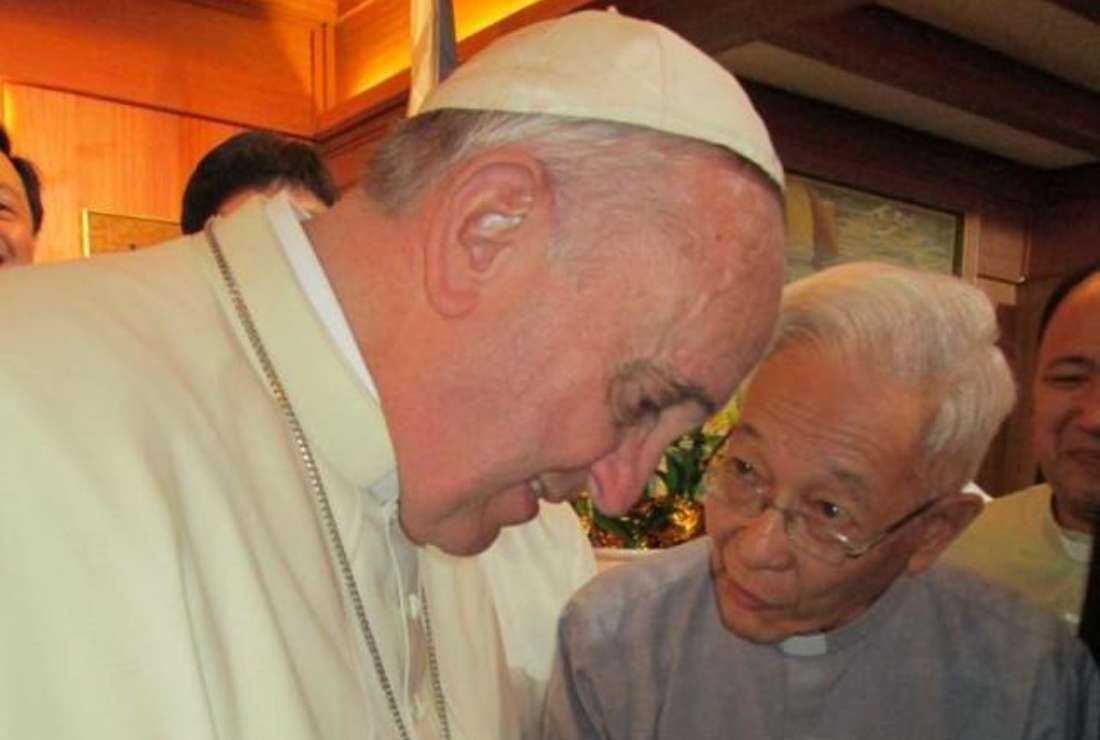 Jesuit theologian Father Catalino Arevalo, who trained hundreds of Filipino seminarians, died on Jan. 18 of age-related illness. He was 97.
The former professor of Jesuit-run Ateneo de Manila University in Manila died at his society's infirmary in Quezon City, Jesuits announced.
Father Arevalo "had been suffering from anemia and was in decline since discharge from the hospital earlier this month," Jesuit Father William Abbott said in a note.
Former students and friends showed an outpouring of support for the Jesuit order and recalled their time with the late theologian.
"He had waited for this transition....impatiently," said Kalookan Bishop Pablo Virgilio David, president of the Catholic Bishops' Conference of the Philippines.
The bishop said that for about ten years the theologian had made it a habit to tell his visiting friends that 'This might be our last encounter, so I have to say my ultimate goodbye.'
Bishop David recalled how he would remind him each time that he had already said what he thought was his ultimate goodbye the previous year, but he would just chuckle and say, "Then I should say it again because this might really be our last encounter."
"The last time I saw him was at San Jose [Seminary]. He was gamely posing for photos with his former students and even giving a wacky pose. But this time he did not say his usual goodbye. It sort of gave me the premonition that it might indeed be our last encounter," the prelate said.
Father Arevalo entered the Jesuit Order in 1941 and was ordained priest in 1954.
After his ordination, he studied Dogmatic Theology at the Gregorian Pontifical University in Rome, as the first doctoral student of the esteemed ecclesiologist and Jesuit, Father Francis Sullivan.
After finishing his doctoral studies in 1959, Father Arevalo became the first and the only Filipino to teach at the Jesuit theologate, Woodstock College, in Woodstock, Maryland, USA.
When he returned to the Philippines, he taught at the San Jose Seminary in Manila until 1965, where he mentored many of the country's future prelates, including Cardinal Luis Antonio Tagle, who is now prefect of the Congregation of the Evangelization of Peoples, in Rome.
In 1965, he moved to the newly founded Jesuit School of Theology (later renamed Loyola School of Theology) as its first dean and later, its first president.
In 1970, he traveled to Latin America, and conversed at length with Juan Luis Segundo, Lucio Gera, and Gustavo Gutierrez, before coming home armed with notes and new ideas and delivering the first lectures on liberation theology in the Philippines.
Pope John Paul II appointed Father Arevalo as the first Asian member of the prestigious Pontifical International Theological Commission, the advisory body of the Pope on matters of faith and theology.
He was also the theological peritus (expert) of the Federation of Asian Bishops Conference when it began in 1970 until 1995.
In 1998, he was named the "Father of Asian Theology" by the Ateneo de Manila University at a convocation commemorating the feast of Saint Ignatius of Loyola.
Father Arevalo was also the adviser to the late People Power icons Cardinal Jaime Sin and former Philippine President Corazon Aquino, especially during the struggle against martial law.
His remains lie at the Oratory of Saint Ignatius of Loyola at the Loyola House of Studies in Quezon City Manila.