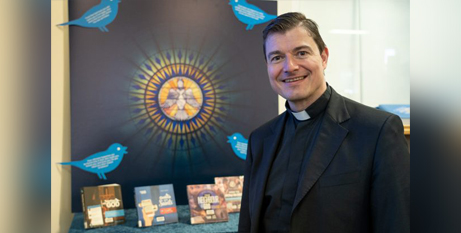 Helping young people grow in understanding of the Catholic faith and tradition while nurturing a deeper relationship with God is at the heart of Fr Michel Remery's "Tweeting with God" ministry.
Hailing from the Netherlands, Fr Remery has been a priest for 18 years and has served in various countries and roles, including Vice Secretary General of the Council of European Bishops' Conferences, as the National Youth Chaplain of Luxembourg and Secretary of both the Commission for Social Communications and the Commission for Catechesis, Schools, and Universities.
Invited by Catholic Education Tasmania, Fr Remery spent one week in April speaking to Catholic school students and staff across the state, both in person and through video conferences.
Speaking about his visit and his interactions with young people in schools, Fr Remery said what had stood out to him was the focus on the importance of evangelisation.
"The young people here are asking the same questions they're asking in Holland, in Vietnam or in Africa or in any other continent.
"They're asking the same questions because these are the fundamental questions, not only of young people, but of humanity – Questions about God, but also about how that affects my own life.
"I must say I found a lot of people who are generally searching for answers; searching for the truth and to do right, and I've only met marvellous people here," he said.
Fr Remery added that his Tweeting with God ministry has come a long way from when it first began, and now includes the Tweeting with God book and smartphone app, "Online with the Saints" and other initiatives.
"Most of my time now is spent on the Ministry of Tweeting with God, Online with Saints, How to Grow in Faith – these different tools that we developed step by step in dialogue with young people."