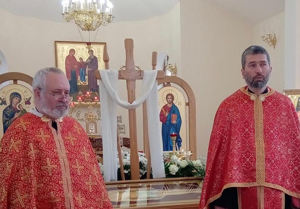 Troops of Russia's National Guard (Rosgvardiya) seized two Ukrainian Greek Catholic priests in Berdyansk in Zaporizhzhia Region in November 2022.
Four months later, their diocese has received no information about them, or even if they are still alive.
It has not been possible to find out where Fr Ivan Levytsky and Fr Bohdan Heleta have been held, what their state of health is, or whether they have been released at an unknown location.

"We have no information, but we hope that our fathers are alive and soon will be released," a diocesan representative said.

The duty officer at the Russian Military Command in Melitopol refused to discuss the enforced disappearance of the two priests. "This is not a question for us," the officer said. "We have no information."
He refused to give any number for the Military Command in Berdyansk or for Rosgvardiya and put the phone down. Berdyansk's Russian-controlled police did not answer the phone or respond to written questions.

Officials of the Russian Zaporizhzhia Regional Administration in Melitopol refused to connect us with Artyom Sharlay, the head of the Religious Organisations Department at the Administration's Social and Political Communications and Information Policy Department.
He has spoken out in Russian interviews against "religious sects" which he claimed were used by foreign "special services" and hid weapons in their places of worship.

Fr Levytsky and Fr Heleta "decided to stay with their people in the temporarily occupied territories", the head of the Greek Catholic Church, Major Archbishop Sviatoslav Shevchuk, said in a December 2022 appeal for help to diplomats and human rights defenders. "They served both the Greek Catholic and Roman Catholic communities, bringing a light of hope to people under occupation".

Apart from Fr Levytsky and Fr Heleta, all the other Greek Catholic priests have now left the occupied parts of Luhansk, Donetsk and Zaporizhzhia Regions. "Some left for their own safety, others were forced to leave," the diocese said.

On 26 January, the Russian military seized Fr Platon Danyshchuk, Orthodox Church of Ukraine priest of Holy Trinity Church in the village of Dobropillya in occupied Kherson Region.
Two months later, it has not been possible to find out where he has been held, what his state of health is, or whether he has been released at an unknown location – or even if he is still alive.

The telephone at the Russian Kherson Regional Police went unanswered each time it was called.

In January, Russian troops seized the last of the three Baptist churches in Lysychansk in occupied Luhansk Region. Transfiguration Church – which gained Ukrainian registration in 1998 - is located in a residential district on the southern edge of the city.
"The Russian military now live there," the Church's pastor Yuri Sisoyev said from government-controlled Ukraine, to where he fled in April 2022. "None of the three Baptist places of worship in the town are able to function and they don't allow anyone in".

Oleg Pomnikov, head of the Religious and Ethnic Affairs Department of the Luhansk People's Republic Culture, Sport and Youth Ministry, refused absolutely to discuss anything before putting the phone down.

At least for part of the eight-month Russian occupation of Kherson in 2022, the occupation authorities banned relatives and priests from attending burials in cemeteries, without issuing any public announcement. It appears they did not explain their ban.
"Neither relatives nor the priest, no one was allowed into the cemetery," Fr Ioann Zamarayev, a priest of the Orthodox Church of Ukraine who lived through the occupation of the city, recalled. He said workers buried bodies in the absence of relatives or priests.

In February, officers of Russia's Kherson Regional Police raided the empty Jehovah's Witness Kingdom Hall in Skadovsk in the occupied Kherson Region.
It claimed it had "halted the functioning of the head office of the local cell of the Jehovah's Witness organisation, whose activity was banned on Russian territory from April 2017 on the decision of Russian Supreme Court".
Police seized religious publications. A possible criminal case is being prepared.

This was the fourth known police raid on an empty Kingdom Hall in occupied parts of Kherson Region. Jehovah's Witnesses have not used their Kingdom Halls since 2020 because of the coronavirus pandemic.

In March, police and local administration officials seized Jehovah's Witness literature from a children's library in Skadovsk District. The telephone at the Russian Kherson Regional Police went unanswered each time it was called. Also unanswered was the telephone of Skadovsk District Administration