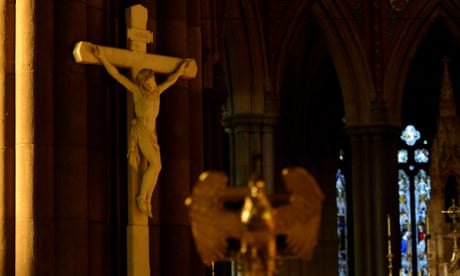 A new Catholic body designed to scrutinise the church's approach to child abuse would have "extraordinary power" to keep its reports secret, the royal commission has heard.
The church announced late last year it would create Catholic Professional Standards (CPS) to lead its efforts on child protection.
CPS will set standards for the protection of children and vulnerable adults, and engage external auditors to assess compliance.
Its "teeth" will rely on it publishing those audits widely, an approach taken in Ireland to drive transparency and accountability in a church traditionally hostile to external scrutiny.
But the royal commission into institutional responses to child sexual abuse heard on Monday that CPS would have broad powers to keep the audits from being published.
The current drafting of the company's constitution would allow it to keep reports secret if they involved "church contacts", a term for children or vulnerable adults, who would ostensibly be involved in almost every report.
Reports could also remain secret if they were inaccurate, had potential to confuse the public or endangered public safety.
On Monday, the counsel assisting, Gail Furness SC, questioned the chair of the church's Truth, Justice and Healing Council, Neville Owen, about the restrictions. "Now taking all four together, it could be argued that they provide very large reasons for not publishing?" Furness asked.
Owen responded: "Yes, that's one way of interpreting it, but I can only go on the intention that's behind this, the teeth in this system is public reporting."
The royal commission chair, Justice Peter McClellan, also raised concern. "Mr Owen, it may be that the public confidence in this body won't be enhanced by a clause that is so broad," he said.
Owen suggested that CPS was still in its formative stages. "Well, it's in its embryonic stage, your honour, and this will be I suppose an easy answer, but there's a lot yet to be worked out," he said.
"And if the board, for example, or as you say through expressions of public concern, perhaps coming from what happens today, perhaps as the mechanisms work themselves out, if the constitution needs to be changed, then there is a mechanism for doing that," he said.
Owen said it was never the intention for CPS not to publish its reports. The intention was that public reporting would "be the norm".
It was vital CPS be properly resourced.
Without that, he said, it would undoubtedly fail.
McClellan also questioned Brisbane's archbishop, Mark Coleridge, about CPS's broad powers to withhold reports from the public.
"Do you understand why there will be people who will react adversely to such a broad discretion?" he said.
Coleridge agreed that it could be interpreted as an attempt to resist publication.
"As it's phrased it has the potential for a range of interpretations, some of which could certainly give that interpretation, that it's an attempt to resist the publication of the information," Coleridge said. "And without the publication this whole proposal lacks teeth."
McClellan responded: "It just falls to the ground doesn't it?"
Coleridge said: "Precisely."
The royal commission hearing continues on Tuesday morning, when a panel of archbishops and bishops from across the country are expected to give evidence.