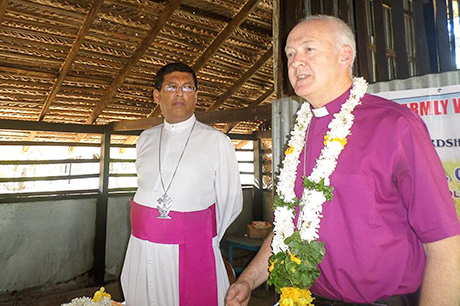 Senior bishops from seven countries with partnership links to the Diocese of Leeds in northern England will meet together for the first time next month.
Bishop Nick Baines has invited the church leaders from Sri Lanka, Sudan, the USA, Tanzania, Sweden, Pakistan and Germany to spend ten days in the diocese.
Bishop Nick said: "It will be a unique international conference - I'm not aware that any other diocese has done this before. We'll be celebrating the strength of global Christianity - a hugely positive message that runs counter to the current narrative of anti-globalisation".
Along with two diocesan events at Wakefield Cathedral and Leeds Minster, the Bishops will spend five days together on retreat as well as meeting with parishes and link supporters.
Bishop Nick: "The bishops will pray, study and talk together, learning more about the diversity of our missional contexts and considering how we might optimize the potential for the development of multilateral links. In essence, we will be asking what are our links for, and how might we renew them?
After their time in the Diocese of Leeds, the Bishops will travel to Canterbury to visit the Cathedral and meet with Archbishop Justin Welby.