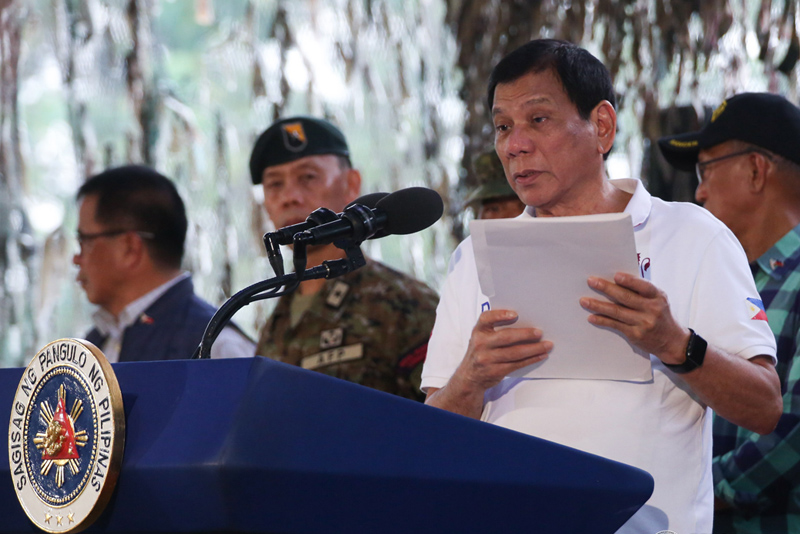 How can the Catholic clergy understand the seriousness of the drug problem? They should try shabu.
A joking President Duterte floated the proposal here on Wednesday as scored the Church anew for its supposed hypocrisy and pretensions.
The Roman Catholic Church, the faith of more than 80 percent of Filipinos, has been vocal in expressing concerns over the spate of killings linked to Duterte's brutal war on drugs.
More than 6,000 suspected drug offenders have been killed since Duterte assumed the presidency.
Some churches even displayed tarpaulins that read "Thou shall not kill," an obvious reference to the alleged extrajudicial killings happening under the administration.
Duterte, who has repeatedly denied that the government is endorsing summary executions, said he cannot understand why the Church keeps on hitting on his anti-drug war.
"I really cannot understand the Church. They know, their parish priests know how serious it (drug problem) is. And yet they say that's 'extra-judicial killing.' You know that if a person is high on drugs, he will fight (with the authorities)," the president said during the 20th anniversary of the Premiere Medical Center here.
"Kaya dapat 'yung ibang pari, mag-shabu para maintindihan nila (Some priests should take shabu so they would understand). I recommend one or two of the bishops," he added, drawing laughs from the audience.
Duterte then issued sweeping statements about Catholic clergy's supposed illicit affairs and homosexual acts.
"Eh sa kanila walang shabu pero asawa meron. Pareho man kami. Ako pati ang mga pari namin sa Davao? Ah pareho. Tag-dalawa, tatlong asawa. Asus (They don't have shabu but they have wives. We are the same. Even the priests in Davao. Each of them have two or three wives)… All the hypocrisy of, pretension," he said.
"When you expose the frailties of your faithful, you are free to shout on the pulpit but you are exempted. What kind of system is that?"
The Catholic Church has said that there is still hope for drug addicts and that the government should help them recover from their vices. Some Catholic organizations and parishes have launched initiatives seeking to rehabilitate drug users and make them productive members of society.
Duterte has repeatedly said that he is ready to kill drug lords who destroy the country and the next generation even if it costs him his life, his honor and the presidency.
He reiterated that his bloody campaign would not stop until the last drug pusher is out of the streets.
"Kaya mga drug lord dito, panahon lang 'yan, panahon lang. Pangdagdag sa greenery sa mga memorial ninyo dito (For the drug lords, it's just a matter of time. They can be added to the greenery of your memorial parks here)," the president said.