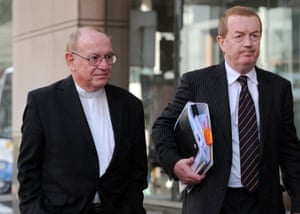 A senior figure in the Catholic Church has been interviewed by police over whether he and others failed to report paedophile ex-priest John Farrell to authorities, the child sex abuse royal commission has heard.
Former vicar general of Sydney John Usher told the commission he gave a statement to officers from Strike Force Glenroe in May.
"They told me that the department of police prosecutions, the DPP, had asked them to investigate this Farrell matter," Usher, 75, told the commission on Wednesday.
Usher's police statement said he did not recall Farrell making any direct admission to committing sexual offences on children during a 1992 meeting with himself and two other priests.
"If he had done so, I would have reported the matters to the appropriate authorities," the statement said.
It contradicts a letter former Armidale priest Wayne Peters wrote to his bishop eight days after the meeting that said Farrell admitted to fondling boys' genitals and performing oral sex on boys.
Usher was questioned about the letter at the royal commission on Wednesday.
He maintained Farrell had made no such confession, and suggested Peters had misinterpreted Farrell's talk about his fantasies and the allegations against him as admissions.
Usher was taken to a diary note he made after the meeting which said Farrell was "unrepentant regarding his sexual misconduct with children".
He said by "sexual misconduct" he'd meant Farrell taking children to picnics and movies.
The national director of Catholic mission, Brian Lucas, was also at the meeting with Farrell and also maintains there was no confession.
He told the royal commission this week he was puzzled by Peters' letter.
Peters died last year but had previously said he stood by the letter.
The commission has heard that by the time of the meeting Farrell had been stood down from public ministry for several months.
Complaints about his abuse of boys surfaced in 1984 but he was allowed to work in the ministry in Tamworth and Parramatta after a psychologist declared he was not a risk to children. Farrell was not defrocked until 2005.
In 1990, Usher assessed him as an arrogant narcissist who had a worrying obsession with children, the inquiry heard earlier.
Usher said Farrell – who was convicted of abusing 12 children in regional New South Wales and sentenced to 29 years in jail in May – "went on and on" about his love of children during a 1990 interview.
Farrell, then a priest at Parramatta, told Usher he had a "great ministry with children" and criticised other priests for not spending time with youngsters and for not supporting him.
Usher – then the head of the church's welfare agency – said he judged the other priest to be a narcissistic person who had a serious psychiatric illness and could pose a risk to children.
"He was an odd bod, you know, [and] my thinking was this man should never have been made a priest," he told the hearing on Wednesday.
The commission has heard that Farrell was appointed to parishes in Tamworth in 1984 and Parramatta in 1989 after a psychologist concluded he posed no risk to children.
After the 1990 interview Usher referred Farrell to a psychiatrist, who allegedly reported to the then bishop of Armidale, Kevin Manning, in early 1992 that the priest had need for "intense intimacy" and should be kept away from children.
The commission heard Farrell was stood down from public ministry in June 1992 after using inappropriate language with altar servers in Parramatta.
Usher said when he was asked to assess Farrell again in September 1992 he was surprised the priest had not changed for the better since receiving psychiatric treatment.
"What I saw was not just a man who was improved in some way, I saw a man who was much worse," he said.