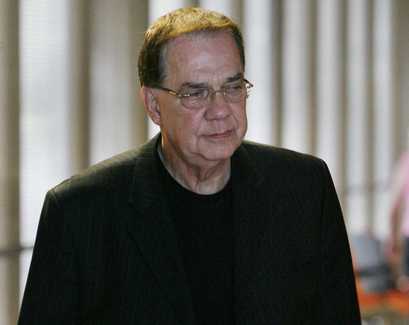 A Roman Catholic priest whose decades-old molestation of a former altar boy led to a $6.3 million payout in an Illinois lawsuit has been kicked out of the priesthood by Pope Benedict XVI.
Diocese of Belleville Bishop Edward Braxton announced the move involving 78-year-old Raymond Kownacki in a statement published in a recent edition of the diocesan newspaper, The Messenger.
Braxton says the papal decree calls the defrocking "for the good of the church."
Kownacki is living in a St. Louis-area nursing home and has refused media requests for interviews. He has not been charged criminally.
Kownacki's misdeeds resulted in a $5 million jury award against the diocese to James Wisniewski in 2008.
That payout grew to $6.3 million to reflect interest that accrued while the diocese appealed.
Below is the official statement of the Diocese of Belleville, courtesy of their newspaper, "The Messenger":

The Diocese of Belleville has received a Decree from His Excellency, The Most Reverend Gerald Louis Muller, Prefect of Congregation for the Doctrine of Faith concerning Mr. Raymond F. Kownacki, formerly a priest of the Diocese.
The Decree states that the Supreme Pontiff, His Holiness, Pope Benedict XVI, having received a report from said Congregation has granted a petition for a dispensation from sacred celibacy and from all the obligations attached to sacred ordination to Mr. Kownacki.
This means that Mr. Kownacki is no longer a member of the clerical state and has been dispensed "prop bono Ecclesiae" for the good of the Church. The dispensation took effect on January 11, 2013 when Mr. Kownacki's petition for laicization are well known.

At the urging of His Excellency, The Most Reverend Edward K. Braxton, Bishop of Belleville, Mr. Kownacki petitioned the Roman Pontiff for the dispensation.
The Bishop submitted the petition along with his personal votum of approval to the Congregation and recently received a response.
With the decision from the Holy See, Mr. Kowanacki's name will no longer appear in our Diocesan Directory, and he is no longer referred to as "a Priest" or address as "Reverend" or "Father."

The Bishop asks everyone to join him in continuing to pray for all those who have been sexually abused as minors.
Pray for Mr. Kowanacki as well.
The Bishop asks that you pray for their emotional and spiritual healing and for their peace of mind.