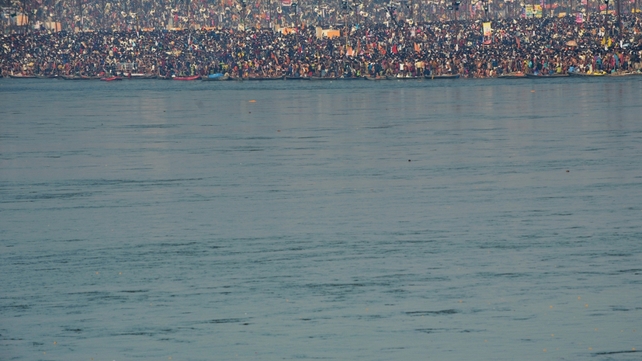 Devout Hindus gathered at the confluence of three rivers in India and bathed in their waters, in a ritual they believe can wash away their sins.
The ceremony in the northern Indian city of Allahabad was part of celebrations for the Kumbh Mela, one of the world's largest religious gatherings, that lasts 55 days.
People prayed and performed rituals before and after taking the plunge at the Sangam, the place where three rivers - the Ganges, the Yamuna and the mythical Saraswati - come together.
Large numbers of security officials were deployed to keep order at the festival and regulate the flow of pilgrims.
There are six auspicious bathing days during the festival, decided by the alignment of stars, when devout Hindus bathe to wash away their sins and free themselves from the cycle of death and rebirth.
According to Hindu mythology, the Kumbh Mela celebrates the victory of gods over demons in a furious battle over a nectar that would give them immortality.
As one of the gods fled with a pitcher of the nectar across the skies, it spilled on four Indian towns: Allahabad, Nasik, Ujjain and Haridwar.
The Kumbh Mela takes place every 12 years in each town.
Hindus believe that sins accumulated in past and current lives require them to continue the cycle of death and rebirth until they are cleansed.
This year's festival, which continues until 10 March, is also a Maha Kumbh Mela - which is marked once every 144 years.