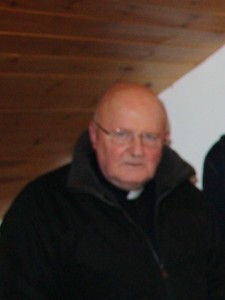 PARISHIONERS of a priest who claims to have been bullied out of his job have begged him to change his mind.
Father Bill McGeady (74) said he was quitting his ministry in the south-west Donegal village of Glencolmcille because of physical and verbal assaults.
Villagers say they are furious the priest is being forced to leave the area.
Many visited the parochial house yesterday to express their support.
It is understood the Jesuit priest, a great-uncle of Ireland footballer Aiden McGeady, has been offered a new post in Edinburgh.
"It's an absolute disgrace what has happened," said Paddy Gillespie, a well-known local resident.
"As far as I'm aware, there are three or four people in this area who never took to Fr McGeady and have been going against him since. Everyone else here thinks he's great. There have never been more people at Mass on a Sunday than there are now."
"He doesn't want to talk at the minute," said housekeeper Clare Heekin, who replaced Collette MacNiallis, an aunt of Taoiseach Enda Kenny, two years ago.
Fr McGeady is a close confidant of former President Mary McAleese, who spends her summers at her holiday home in Glencolmcille.
In the local Breslins grocery store yesterday, customers were adamant Fr McGeady shouldn't leave.
"Why should this whole area suffer the loss of a great priest because three or four people didn't like the way he did things?" asked one young mother.
Her friend insisted: "He's the perfect priest and it's not as if there's a queue of them coming out of the seminaries at the minute who could replace him."
Younger parishioners were venting their anger at the loss of the priest on Facebook.
"If he goes, I'll never be back at Mass again," said one 17-year-old.
In his letter to parishioners, Fr McGeady said he had been physically and verbally assaulted and his mental and physical well-being had suffered.