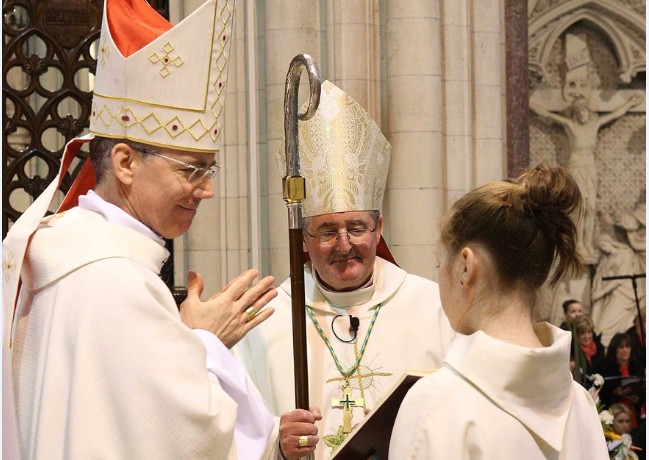 In his first address to his diocese, the new Bishop of Cloyne threw down the gauntlet to the banks, warning they need to "do more of the heavy lifting" as the financial crisis is crushing ordinary people.
Bishop William Crean, who was ordained bishop at a spectacular ceremony at Cobh Cathedral yesterday, said ordinary people had made huge sacrifices and "the discipline and demands of the 'troika' weigh heavily on us".

"Jesus was critical of those who placed excessive burdens on people's shoulders. Is it not time that major financial institutions do more of the heavy lifting? The people have done their share," he said.

Speaking outside the church as parishioners swarmed around, eager to welcome him to Cork, the Kerry man said he was concerned that "there are children hungry coming to school in a way that wasn't happening several years ago" and that "the institutions are partly responsible for the burden on people".

The bishop also promised "to continue the work of healing and reconciliation that is so necessary" in a diocese brought to its knees by the mishandling of child sexual abuse complaints.

Bishop Crean said he doesn't believe reconciliation with abuse victims can be easily achieved as the pain was "a long time in the making and was hidden for so long and so the hurt is deep".

Asked how he could personally further such healing, he said: "I would like to think that I have a capacity to listen and to empathise with people who have experienced great hurt and it's only in the spirit of the dialogue that I can help."

There was a huge sense of excitement in Cobh about yesterday's ordination. More than 110 priests from Cork and Kerry, in full ceremonial vestment, joined the Papal Nuncio Archbishop Charles Brown and Archbishop of Armagh and Primate of All Ireland, Cardinal Seán Brady and Bishop Crean's family and friends at the ceremony.

There were another 25 bishops at the lavish ceremony, including Archbishop of Tuam Michael Neary and Bishop of Cork and Ross John Buckley. Another classmate of Bishop Crean, Bishop Noel Treanor of Down and Connor, also helped concelebrate Mass, with music from St Colman's Cathedral and Chamber Choir.

Archbishop Brown was ordaining bishop, assisted by Archbishop of Cashel and Emly Dermot Clifford and Bishop of Kerry William Murphy. The papal nuncio thanked Dr Clifford for his "tireless work" as apostolic administrator in Cloyne since Bishop John Magee stepped aside five years ago.

Bishop Crean said he wanted to "acknowledge the ministry of Bishop John Magee" and wished him well in retirement.

The official scroll from Pope Benedict appointing Bishop Crean was read out by Monsignor Eamonn Goold, parish priest of Midleton in East Cork. In his letter, the pope told Bishop Crean and the congregation of nearly 1,200 that "a bishop must be courageous" in the face of " reigning agnosticism which is full of dogma" and "strong in the face of dominating opinions".

The ordination ceremony saw the bishop lay prostrate on the ground before the altar as the choir sang petitions to God. Bishop after bishop laid their hands upon him in a welcoming into the college of bishops. He was then presented with the Book of the Gospels, ring, mitre and crozier.