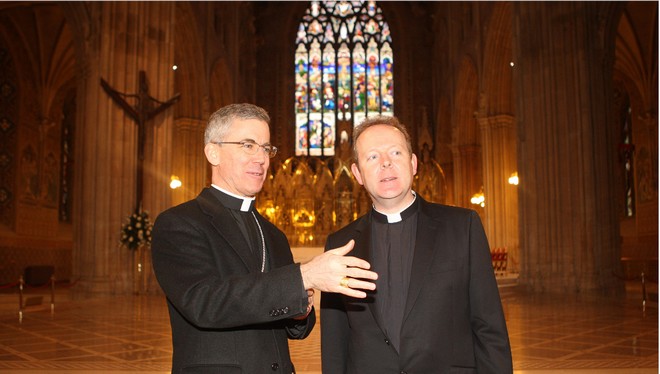 CARDINAL Sean Brady will be succeeded as Archbishop of Armagh by Monsignor Eamon Martin, the a
dministrator of the Diocese of Derry.
Making the announcement this morning, Cardinal Brady said his first reaction to the appointment of Mgr Martin co-adjudicator Archbishop of Armagh was one of "great joy and great gratitude".
Cardinal Brady, aged 73, has led the church in Ireland for more than 16 years. A series of investigations during that time exposed damning levels of clerical abuse, and the leading cleric was damaged by revelations about his inaction over notorious paedophile Brendan Smyth in the 1970s.
He explained in today's address that he asked Pope Benedict XVI to appoint a co-adjudicator to assist him in 2010 and said "I am so very thankful to the Holy Father for acceding to my request."
He will remain in his role for a number of months before stepping down and being replaced by Archbishop-elect Mgr Martin.
Mgr Martin responded to his appointment saying he was "shocked", "humbled" and "honoured" to have been asked to succeed Cardinal Brady adding: "I am very conscious of the great trust that the Holy Father has placed in me, but in truth I have to admit it was with considerable nervousness and trepidation that I accepted his call."
He said "One of the greatest challenges facing our Church is to acknowledge, live with, and learn from the past, including the terrible trauma caused by abuse."
He added: "I am saddened that many good Catholics were let down so badly over the issue of abuse and that some have even stopped practising their faith."
"As a Church, we must continue in our efforts to bring healing to victims and ensure young people are always protected, respected and nurtured."
Cardinal Brady himself was embroiled in accusations that he mishandled child abuse allegations amid wider cover-ups in the church. It emerged he had been informed about the paedophile activity of Brendan Smyth decades ago.
As a young priest and canon lawyer, Cardinal Brady was made aware in the 1970s of abuse by Smyth - but did not inform the police or the abused children's parents.
Last May he said he would not resign over the affair.
Edward Daly, Bishop Emeritus of Derry, said Monsignor Martin's career had been marked with distinction and outstanding ability.
"He will bring many skills and gifts to the Archdiocese of Armagh and, subsequently, to the Irish Church. He is highly intelligent, knowledgeable and articulate, and an excellent communicator of God's word," he said.
Northern Ireland Deputy First Minister Martin McGuinness described Monsignor Martin as a "progressive thinker".
"This move provides an opportunity for renewal with the Irish Catholic Church so badly damaged by the handling of the criminal abuse of children," he said.