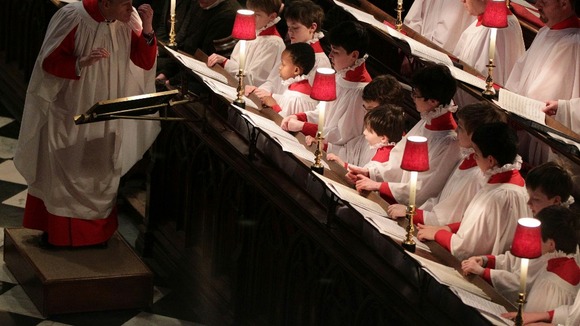 Westminster Abbey choir is to make history this week by singing at the Vatican just under two years after performing for Pope Benedict XVI on his visit to Britain.
The 20 boys and 12 adult singers will become the first to join forces with the Pope's personal choir, the Sistine Chapel Choir.
The two choirs will sing at First Vespers in the Papal basilica of San Paulo Fuori Le Mura - St Paul Outside The Walls - on Thursday and at the Papal Mass in the Vatican Basilica of St Peter's the following morning, on the feast day of St Peter and St Paul.
The Cappella Musicale Pontificia "Sistina" was founded more than 500 years ago and is made up of 20 men and around 35 boys.
The trip to Rome by Westminster Abbey choir comes after its singers performed for the Pope at an evening prayer service in the abbey attended by the Archbishop of Canterbury Dr Rowan Williams during the Pontiff's visit to England and Scotland in 2010.
The invitation to the Anglican choir - the first time another choir has joined forces with the Sistine Chapel Choir in its history - has been viewed as a "highly significant" ecumenical gesture.
The Pope, an accomplished pianist and a keen classical music fan, is said to have asked that the music reflects the "Christian vocation" of the singers and encourages the "mutual exchange of gifts" between the two traditions.
The choirs will combine to sing music from the Roman tradition by Palestrina and Perosi.
The abbey choir will sing music from the English choral repertory, including some from the English-language tradition at the beginning and end of of each liturgy.
The singers will also give a public recital in the Basilica of Santa Maria Maggiore, and a festal evensong in Santa Maria Sopra Minerva. They will then travel to the Benedictine monastery at Montecassino to sing Vespers and Mass with the monastic community at the burial place of St Benedict.
The Dean of Westminster, The Very Rev Dr John Hall said: "This visit, a fruit of the Pope's visit to Westminster Abbey in 2010, will both celebrate the riches of the liturgical tradition we hold in common and also, we pray, be a powerful symbol to the wider world of movement on the long ecumenical journey towards full visible unity."